Lisa Boucher
Flowers of the Desert Bracelet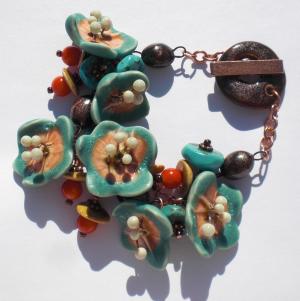 Specialties: Ceramic Beads, Pendants, Jewelry & Ornaments
Location: New Hampshire
I've always enjoyed all types of arts and crafts, but started experimenting with clay when a good friend gave me a pair of porcelain earrings and she suggested that may be a nice small business for me. It took some time, but I eventually began creating my own distinctive necklaces, earrings and pins. My designs are inspired by nature's beauty; the changing seasons, mountains, dragonflies, the ocean, autumn leaves, and snowflakes to name a few themes.

I used only earthenware for years, but I've recently fallen in love with the look of high fire stoneware and porcelain, and have been making more pendants, beads and components for other jewelry artists to encorporate in their finished pieces. Ornaments are another favorite I usually create around the holidays. I can't decide what's more exciting, playing with clay, or bringing my pieces to life with glazes.

The largest selection of my work is available in my Clayworksnh Etsy shop, and I frequently list auctions of my beads and components on Ceramic Art Bead Market on Facebook.
Awards, Recognition, Articles:
My Flowers of the Desert Bracelet featuring my porcelain flowers was featured in the Summer 2015 Jewelry Stringing Bracelet Gallery.
Lisa Boucher's Business Facebook Page

Lisa Boucher's Personal Facebook Page

Send Email to: