Sharleen Newland
Stoneware Bird Bead Set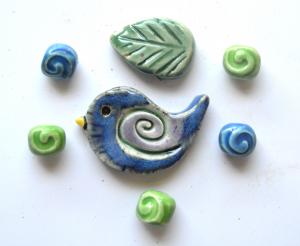 Specialties: earthenware and stoneware pendants and beads
Location: Ohio
I began making ceramic beads and pendants in 2003, when I bought a bead roller intended for polymer clay. My interest in making my own beads grew out of my interest in beading. I also had a friend that made lampwork, and I wanted to try it in ceramic.
I had taken a year of ceramics in high school, but didn't know much about glazing. When I first started, I didn't know the difference between underglaze and glaze. My first firing in a friend's kiln was a disaster, because the wire we strung the beads on was too thin and overloaded. Everything collapsed and fused into a heap. But I wanted to try again. I didn't have a kiln, so I took my beads to be fired at a local ceramic store. It was trial and error, but I loved playing with the glazes to see what would happen. The biggest problem was remembering what I did to get the effect when I got a fabulous one. I found it too tedious to try to keep records of what I was doing. I usually had to wait 3 or 4 days before I could go back to the store to pick up the fired beads. I couldn't wait to go back and get them.
Finally in 2004 I had so many beads I had to do something. So I took them to two local bead stores. I sold over $600 worth of beads that day, and I knew I had to get a kiln. My beads looked even better when I started firing them myself.
I use only low fire clay, because I love the bright colors. One customer says my work reminds her of fabric, and that is probably because my college training was in fashion design. I make many different shapes and sizes of beads. I have even sculpted cats, fish and turtles.
I also make sgraffito beads. The technique involves layering glazes and scratching through to make a design. I can get very thin lines that would be difficult to achieve with a paint brush.

My picture shows a stoneware bird bead that is hand carved witha swirl design, and a hand carved leaf.
Awards, Recognition, Articles:
Necklace featured in Stringing Magazine Fall 2011
Sharleen Newland's Business Facebook Page

Sharleen Newland's Personal Facebook Page

Send Email to: