Christine Smith
Fly Free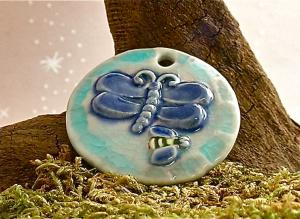 Specialties: Handmade Artisan Clay Beads, Pendants, Charms & Jewelry
Location: Hudson Valley of New York
Ladybrook Beads
Ladybrook Designs website
The Beads That Tell a Tale...For your creative dreams!
Handmade porcelain/ceramic artisan LadybrookBeads, Pendants, Charms, Buttons, from my hands & heart in my light filled cozy studio.
Found a passion with clay! I enjoy rolling the moist clay in my hands creating beads, rolling out the clay for designing pendants and charms and painting the glazes that when they come out of the kiln...I am always amazed of the transformation from their wet begining to fired pieces of art ready to design with!
I have been a jewelry artisan for many years and after years of shows on the east coast, it has been a dream to settle in a studio and create, teach classes and have a place to make my LadybrookBeads, jewelry, whimsy & welcome shoppers to my designs and also custom designs. I have music playing as I go about my day along with my fairy fountain trickling water over collected stones, shells, glass & some kiln mishaps ( the fairies enjoy them!)
Many of my pieces are in private collections and selling in a few select gift shops. My BLOG is also on my
Ladybrook Designs website
(will be soon updating)....♥Christine
Christine Smith's Business Facebook Page

Christine Smith's Personal Facebook Page

Send Email to: