Rebecca Glembocki
Butterfly pendant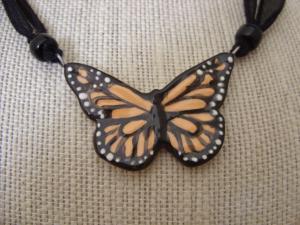 Specialties: Ceramic Earthenware Pendants, Buttons, and Beads
Location: Hudson Valley, NY USA
My pendants and buttons are made from original designs hand carved into plaster molds. I press the earthenware clay into the mold and clean and refine the detail on each piece. I then choose to either hand paint underglazes for a painted look, or fire the piece and use a transparent glaze of various colors that shows off the fine detail of the carving, and fire it a second time.
I make my beads by hand shaping the clay for the handmade look. They are fired and then glazed and fired again.
I really enjoy working in clay in such small detail. I love the results I have been able to achieve. I also love making and wearing functional artwork.
Thanks for looking!
Rebecca Glembocki's Business Facebook Page

Send Email to: