Marti Conrad
Tree Of Life Pendant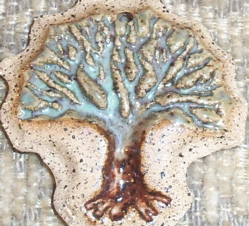 Specialties: Stoneware
Location: WV, USA
My name is Marti Conrad and I live in a small rural town in West Virginia that has been home for over 40 years.
My husband and I have been married for 35 years and I am child-free, a step mom to two great people and step grandma and step great-grandma to four beautiful girls. I have a small dog and one cat and I adore them both!
The last few years I've been working in stoneware clay and I love every step in the clay bead process and willing to share what I can. I make beads and small jewelry components for jewelry makers and sometimes make things for friends. I do small fairs and set up locally to sell my stoneware pieces.
I have a small shop in Etsy that I have enjoyed very much. I am planning on getting busy in just a few days after taking a few months off. Tutorials are planned as well as some new work. Thanks for your patience!
Marti Conrad's Business Facebook Page

Marti Conrad's Personal Facebook Page

Send Email to: