Tracy Isley
Red Stoneware Diamonds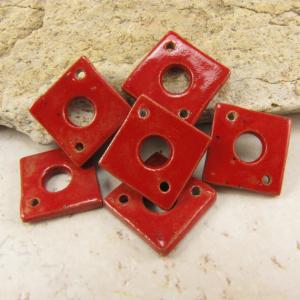 Specialties: Porcelain & Stoneware beads and pendants
Location: North Carolina
Tracy Isley, a self-taught artist and teacher who has been involved in many mediums over the years. In the fall of 2004, she designed her first piece of jewelry for the employees of a local museum for a fundraiser and was later asked to put items in their gift shop. When asked to teach a summer camp on jewelry making to middle school aged children, Tracy decided to teach her class how to make their own ceramic beads and pendants to use in their jewelry.
After teaching herself the basics of ceramic bead making, she was inspired to continuing working with this medium.
Today her designs use her own handmade exclusive beads, her own handmade stained glass pendants, semi-precious stones, fibers, sterling silver and 14kt. gold filled beads. Tracy is continuing to expand her line of jewelry, ceramic beads and pendants, as well as refine her skills as a designer.
Awards, Recognition, Articles:
Bead Trends Oct. 2010, Beads 2009
Tracy Isley's Business Facebook Page
Send Email to: