Natalie Fletcher
Patchwork Love Pendant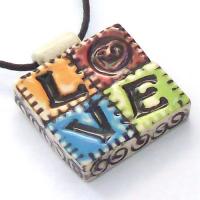 Specialties: Earthenware & Terracotta
Location: Queensland, Australia
I create unique handmade pottery clay beads, pendants, cabochons, connectors and charms.
Every bead is custom made in my South Burnett studio from a variety of clay types including earthenware & terracotta. Each piece is fired, then glazed using a combination of finishes including crystal burst glazes & melted glass accents, giving you quality and originality. If you are purchasing a completed item of jewellery, or unique beads to complement your own designs, then a Peruzi piece is the choice to make.
My aim is to provide to my customers miniature works of art at affordable prices - a contemporary statement of style.
Awards, Recognition, Articles:
Send Email to: