Marsha Hedrick
Gypsy Girl Cab - New Vintage Photo Cabs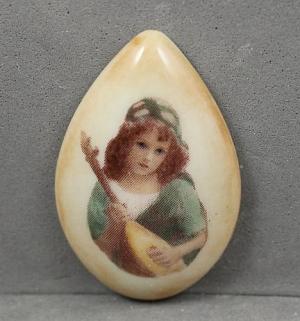 Specialties: Porcelain Beads and Pendants and Native items
Location: Arizona
Recently I have been working on creating a line of pieces that feature designs from the ancient Mimbres Indians. They are a group of indians that lived in the southwestern New Mexico area around 1000 AD. They are known for their striking black and white designs, primarily on bowls. I have brought these designs over to porcelain jewerly components. You can find out more about the Mimbres and see the pottery that I do that also incorporates their designs on my
Native American website
.
I work primarily in porcelain but also do work with stoneware and two types of native clay which I have dug and refined myself. My work includes many interesting and unique techniques such as slip trailing, piercing, and china painting.
I really enjoy doing unique one of a kind hand built pieces. I also cast many pieces from original molds which I make myself. Beautiful florals, landscapes and animal portraits along with delicate pierced designs and unique hand formed pieces make for varied and interesting choices and keep the work interesting as well.
In addition to beads, pendants, jewelry and the like I also make Native American Pottery and dollhouse miniatures. I started in porcelain over 25 years ago doing large porcelain dolls. From that I moved to miniatures which I have been doing for about 23 years now. Then in 1997 I branched out into porcelain jewelry designs and bead making, looking to enter the Native American market with porcelain jewelry with a Native American theme and feel. As fate would have it the Native American Community accepts the pottery more readily and I have been making Southeastern Mound builder style pottery and contemporary potter for the last few years as well as the beads, buttons, jewelry and miniatures.
I hope you will visit my bead site listed below and if you are interested also check out my
Native American Art
and my
Dollhouse Miniatures
as well.
Awards, Recognition, Articles:
Tutorial in Apr/May Step by Step Wire,Various Native American Awards
Marsha Hedrick's Business Facebook Page
Send Email to: