Liz DiVincenzo
Peace Birds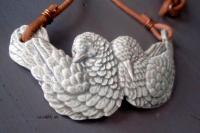 Specialties: porcelain clay, high fire glazes, leather, silver, copper
Location: Ohio, USA
I love the process of creating something that to me is beautiful. I liken it to, not just walking through the garden center but actually working the soil, planting the bulbs, feeding them and patiently waiting for them to grow. I love to see them bloom, enjoy their beauty and then cut them back in the fall to do it all again. I think that is one of the reasons I was drawn to ceramics. To start with a simple shapeless piece of clay and after many steps and processes end up with a beautiful shiny wearable treasure, to me, is such a rewarding experience. I LOVE IT!
With all of it's possibilities in shape and texture and color it keeps my creative little monster happy and well fed. I have also worked selling charcoal portraits, mosaics, and handpainted furniture to mention a few. My home is my largest canvas and drinks in any creative juices not spent on my jewelry. You'll find me most often in t-shirt and jeans, a few pieces of my jewelry on, happily working, cooking for one of my 4 kids, walking a dog or two, catching up with my husband, but almost never sitting down!
Thanks so much for your interest in me and my jewelry designs!
Peace and Blessing to you!
Awards, Recognition, Articles:
Send Email to: