James Johnson
Small sample of porcelain pendant designs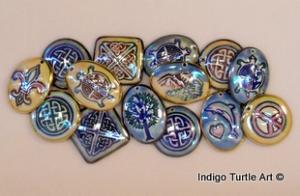 Specialties: Porcelain pendant & earring components
Location: Illinois
James Johnson (aka Turtle) has been a full time ceramic artisan for over 25 years. In 2007, he came to the realization that the most important things in life are not THINGS. He downsized his studio and lifestyle; moved from metropolitan Minneapolis, Minnesota to pastoral Fulton, Illinois to find a slower paced life and be more centrally located to his market area. Traditionally he has sold his porcelain jewelry & decorative items at Renaissance Festivals and numerous art fairs throughout the mid-west. Part of the downsizing process included reducing the number of larger decorative items & concentrating on his jewelry designs.
James believes that slow & steady wins the race; like the turtle he has always valued quality over speed. Each item is individually hand crafted from start to finish; it is his desire that your customers will feel the love & attention that goes into each piece when they wear it in one of your original designs.
Iridescent rainbows of color dance across the surface of these unique porcelain jewelry components. The richly colored hand painted designs are framed in gleaming 22K Gold or Platinum, much like a professionally framed piece of fine art. When you purchase Indigo Turtle Art jewelry components, you are acquiring a miniature piece of original wearable art.
After years of trial & error, James has refined the materials & methods required to achieve the polished look he desires. Each piece starts in a bag of raw porcelain clay & is individually hand formed. Layers of hand painted color are built up through multiple firings; giving a depth to the design which is unachievable with any other medium. This depth is impossible to capture in a single photograph; the item must be seen in real life where it can be viewed at multiple angles to observe the different levels of color, design and the interplay of multiple glaze layers. Fine porcelain creates a beautiful, classy and elegant look; yet is very light weight, durable and will never fade or tarnish.
Your jewelry designs deserve the very best focal components; we would be proud to have you choose our items for your projects. Order with confidence ~ every item from Indigo Turtle Art is 100% satisfaction guaranteed. Exchange, full refund, whatever the customer needs ~ is happily taken care of, at any time for any reason.
James Johnson's Business Facebook Page
Send Email to: