Duane Collins
Raku Focal and Twirl Beads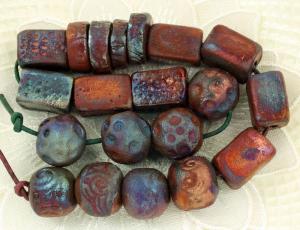 Specialties: stoneware, porcelain, raku pendants and beads
Location: Mi/USA
After being a full time potter, doing mostly wheel work, I'm now crazy about beads and pendants. I Love doing raku. My work has a lot of nature, fantasy, sculptural influences, textures and various surface treatments.
My work is used in two projects by Erin Siegel for the 2012 summer issue of Stringing magazine. www.stringingmagazine.com.
Awards, Recognition, Articles:
My beads are used in a design by Erin Siegle in Bohemian-Inspired Jewelry: 50 Designs Using Leather, Ribbon and Cords by Erin Siegel and co-author Lorelei Eurto available now.
Duane Collins's Business Facebook Page

Duane Collins's Personal Facebook Page

Send Email to: