Diana Brower
LOVE bracelet focal bead or connector beads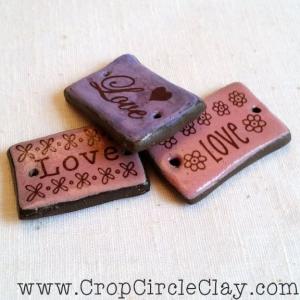 Specialties: stoneware pendant and bracelet focal beads, connectors, charms, earrings, buttons
Location: Ohio/USA
Hello! My name is Diana Brower and I love to make rustic, earthy ceramic beads and charms which I turn into pendants and earrings. My favorite material is a dark brown stoneware clay and I use iron oxide transfers to imbue crop circles, peace symbols and other sacred symbols onto my pieces. I form each piece with my hands and fire them three times in my electric kiln. Once for the bisque, the second to high fire cone 5 for the glaze and the third firing is another low fire to burn in the iron oxide designs at cone 04. Because of the three kiln firings they endure, they are very sturdy!
Working with clay grounds me to Mother Earth; I breathe in its sweet scent as I'm wedging and delight in the comfort it brings. This calms my mind and brings peace like an artful meditation. Also, I give my clay Reiki energy before I begin to work with it to connect myself to the clay. Those sensitive to energy claim to feel this energy when they wear my pieces or hold my beads in their hands.
Currently looking for boutiques & gift shops, spiritual and healing centers, funky cafes and unique online shops who might be interested in carrying my jewelry. Would also sell my beads wholesale to artists who would like to create with them. Thank you for your time.
Awards, Recognition, Articles:
Finalist in the Martha Stewart AMERICAN MADE Competition 2014
Diana Brower's Business Facebook Page
Send Email to: