Susan Turfle
Starfish in chartreuse with white texture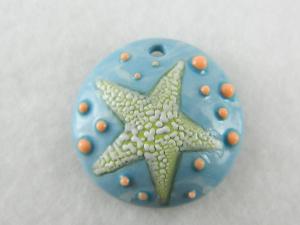 Specialties: Porcelain clay
Location: Maryland
I specialize in making porcelain beads.
From the beginning, the process of transforming clay into a form has struck me as magical. Over the years, that process has lead me through a cycle of exploration to discovery. Making porcelain beads fills me with a sense of joy and accomplishment, and has proven a most amenable channel for translating inner vision to outer reality. I enjoy the repetitive nature of forming each individual porcelain bead. This repetitive nature of work frees my imagination to envision the embellishment process. The ornamentation of my beads leans toward earthy influences. The swirls of my slip trailing may be viewed as being similar to the delicate tendrils of a vine. As one strives to find balance in their life, I strive to find balance in my work. I have found this balance through the inclusion of celestial objects in my embellishments. Hence the impression of the sun, moon and stars found on some of my porcelain beads are a way of counterbalancing earthy influences.
I view each bead as a little work of art!
Enjoy!
Susan Turfle's Business Facebook Page
Send Email to: