Renee Kilburn
Bracelets.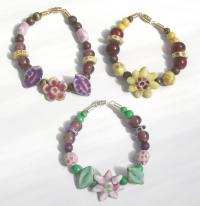 Specialties: Stoneware beads and charms
Location: North Somerset/UK
I am Swedish but moved to London in 1994 to study Ceramic Design at Central saint Martin. After my studies I met my English husband to be and we moved to Weston-super-Mare where I now make all sorts of clay work, and the beads are an important part of that work.
From vases and bowls to beads, I hand model and hand paint each piece so there is an individuality to be found in all items made by me.
Please look up "Ceramics and Art by Renee" on Facebook for the latest images.
Awards, Recognition, Articles:
Send Email to: