Patricia Munson
Bright Mountain Sunset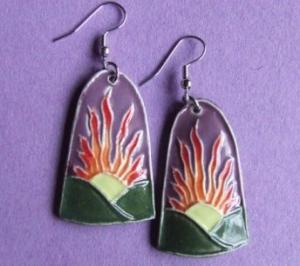 Specialties: Stoneware, Porcelain
Location: Arkansas, USA
I live in the Ozark Mountains of Northern Arkansas, which I have called home since 1973.
Our view to the west over the mountains from our home has inspired me to add mountain sunsets to many of my pieces, as in the earrings in my profile picture.
We live thirty miles from the nearest town big enough to have a stop light.
We raise much of our food organically. My pottery studio is here on the farm.
The nature and the culture of the area often find their way into my work.
I make are platters and functional ware as well as my jewelry.
I make my earrings from press molds I carve myself.
I fire almost all my work to cone 5/6
Send Email to: