Joan Tucker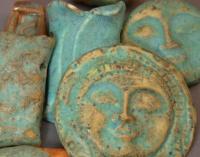 Specialties: Porcelain, Stoneware
Location: Lacey, WA
Off Center Productions is a small pottery studio in Washington where Joan Tucker and Lana Weed make bowls, pots, trays,
pendants, baskets and beads. We work in porcelain and stoneware and fire Cone 6 and Cone 10 electric as well as gas; Lana likes soda firing. We are inspired by artifacts and antiquities and make a line of " Antiquities" inspired by Roman, Babylonian and Greek jewelry and objects.
We sell at shows and shops. Our show list includes: Best Bead, BABE, Puget Sound Bead Factory, Bead and Button, Whole Bead, Portland Beadfest, Santa Fe Beadfest and NW Bead Society Show.
We have several designers collaborators who make jewelry with our pieces and we try to show their work at shows as well as get the pieces published.
http://www.offcenterproductions.com
http://www.offcenterproductions.blogspot.com
http://www.firedclayartist.com
http://offcenterproductions.etsy.com
email: joan@offcenterproductions.com
Awards, Recognition, Articles:
Beads 2008, Bead Unique Fall, Step by Step Fall, Interwaeave Contest First Place for Brooch
Send Email to: