Natalie Pappas
Blue Marine Sprig Porcelain Bead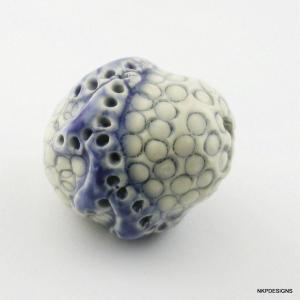 Specialties: Ceramic Beads and Pendants
Location: Fort Worth, Texas
Natalie produces a variety of brightly colored ceramic beads. Pottery/Ceramics is possibly the most exciting medium in which she has had the pleasure of working. Every bead is an experiment in style and substance; each round or differently shaped pendant is a blank canvas to texture and to glaze.
Every spare second in High School was spent on the pottery wheel. After high school she dabbled in many different hobbies and mediums, from fibers to painting. "Each has been a tremendous influence."
Years later she finally acquired a pottery wheel and one day stumbled onto ceramic bead making quite by accident. It suddenly dawned on her that she could make a bead with the leftover clay!
Natalie works in many different clay bodies, from earthenware to porcelain. Each has its own degree of difficulty and enjoyability. Always learning and experimenting, she pushes herself to learn the properties of whatever clay body in which she finds herself working. "And hopefully," she says, "The end result will be something beautiful!"
Look for her Art Beads in the publication by Lark Books, "1000 Beads" (pages 294, 362).
Awards, Recognition, Articles:
Fall, 2012, Stringing Magazine
Natalie Pappas's Business Facebook Page

Natalie Pappas's Personal Facebook Page

Send Email to: