Ceramic Bead Artists - Unique High Quality Ceramic Porcelain and stoneware beads by various artists.
Start your Search for Ceramic, Stoneware, and Porcelain Jewelry Components Here.
You can quickly peruse a wide variety of artists, see a sample of their work and go directly to their website or ETSY shop so you can
BUY DIRECT FROM THE ARTIST
.
Help spread the word so more people can find all these great artists. Click the
Google+1
button to recommend a page on Google. There are
social media share
buttons on all of the tutorial pages as well as
Pinterest
buttons.
As a cooperative Ceramic Bead Artists is devoted to the promotion of ceramic beads as an art form. You will find some of the most innovative, unusual, and beautiful art beads right here. Make this your source for unique Jewelry components. Hand made beads are our passion. You always get a better deal from the artist plus you are helping them to continue the art. Click on the thumbnails in the slideshow and on the Artists page to find out more about each artist.
Many of our artists have Etsy shops so we have expanded the scope of Ceramic Bead Artists to include an Etsy team. Click on the ->
Etsy shops
link here or on the Artists page for a page with only members with Etsy shops.
Resources Section:
Find great places for inspiration, shopping for supplies and tools that have been shared by our artists. Find that hard to find supply or tips for that new technique that you have been wanting to do. Find Inspirational websites with great photos or exciting designs. What will our artists share with you? What are their favorite places?
Check Our Tutorials
You can see how our artists do what they do. Also how to incorporate these lovely jewelry making beads into your own jewelry projects for unique jewelry. Get some inspiration learn a new technique. Gain an understanding of the hard work that goes into these tiny works of art.
Ceramic
is a broad term that encompasses all forms of fired clay products. The most common type of ceramic bodies that are used are:
Earthenware is the type of ceramic body that is generally referred to as ceramic. It is a porus body that is usually glazed to achieve durability and beautiful colors and designs. It is a 'low fire' body generally fired to temperatures less than 2000 F.
Porcelain which is a strong vitreous body that is usually transluscent when fired. It is considered a 'high fire' body generally being fired to 2300 F (1200 C) or higher temperatures.
Stoneware is a strong body frequently used for ovenware. It is opaque and also a 'high fire' body. These comprise the most commonly used clay bodies.
Our Featured Artist Is
Lisa Boucher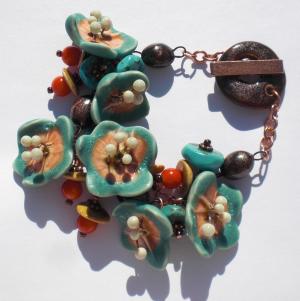 Specialties:
Ceramic Beads, Pendants, Jewelry & Ornaments
I've always enjoyed all types of arts and crafts, but started experimenting with clay when a good friend gave me a pair of porcelain earrings and she suggested that may be a nice small business for me. It took some time, but I eventually began creating my own distinctive necklaces, earrings and pins. My designs are inspired by nature's beauty; the changing seasons, mountains, dragonflies, the ocean, autumn leaves, and snowflakes to name a few themes.

I used only earthenware for years, but I've recently fallen in love with the look of high fire stoneware and porcelain, and have been making more pendants, beads and components for other jewelry artists to encorporate in their finished pieces. Ornaments are another favorite I usually create around the holidays. I can't decide what's more exciting, playing with clay, or bringing my pieces to life with glazes.

I've been a member of the Wolfeboro League of New Hampshire Craftsmen since 1996. I'm an ongoing student of potter and naturalist Sally Cornwell, learning sculpture, hand building and throwing techniques. Every summer I manage the pottery program at Merrowvista Education Center where I train the summer pottery staff and fire the kiln for all of the camper's clay creations.

The largest selection of my work is available in my Etsy shop, and now two New Hampshire shops carry my beads and pendants: All Beads Considered in Exeter, and The Guest House, A Creative Studio in Meredith.

Awards, Recognition, Articles:
One of my porcelain pendants and a pair of my stoneware earrings were publihsed in the fall 2012 Jewelry Stringing magazine.
Lisa Boucher's Business Facebook Page
Send Email to:
Lisa Boucher's Website
Lisa Boucher's ETSY Shop
Help spread the word add the Ceramic Bead Artists widget to your blog