Ceramic Bead Artists - Unique High Quality Ceramic Porcelain and stoneware beads by various artists.
Ceramic Bead Artists
is a cooperative of artists devoted to the promotion of ceramic beads as an art form. Click on the thumbnails on the left to find out more about each artist.
Many of our artists have Etsy shops so we have expanded the scope of Ceramic Bead Artists to include an Etsy team. Click on the ->
Etsy shops
link here or on the Artists page for a page with only members with Etsy shops.
New Resources Section:
Find great places for inspiration, shopping for supplies and tools that have been shared by our artists. Find that hard to find supply or tips for that new technique that you have been wanting to do. Find Inspirational websites with great photos or exciting designs. What will our artists share with you? What are their favorite places?
Check Our Tutorials
You can see how our artists do what they do. Also how to incorporate these lovely jewelry making beads into your own jewelry projects for unique jewelry.
Over the next few months we hope to add new artists and new tutorials to cover just about every aspect of ceramic bead art.
Ceramic
is a broad term that encompasses all forms of fired clay products. The most common type of ceramic bodies that are used are:
Earthenware is the type of ceramic body that is generally referred to as ceramic. It is a porus body that is usually glazed to achieve durability and beautiful colors and designs. It is a 'low fire' body generally fired to temperatures less than 2000 F.
Porcelain which is a strong vitreous body that is usually transluscent when fired. It is considered a 'high fire' body generally being fired to 2300 F (1200 C) or higher temperatures.
Stoneware is a strong body frequently used for ovenware. It is opaque and also a 'high fire' body. These comprise the most commonly used clay bodies.
Our Featured Artist Is
Valarie Garber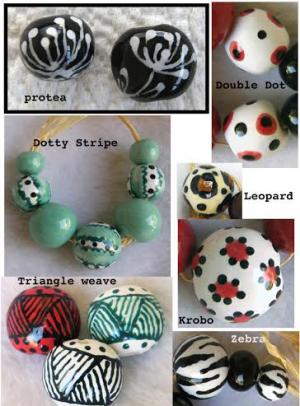 Specialties:
earthenware beads and pendants
We have now added bead making to our women's project In Okahandja Namibia. We have been making bead jewelery for 5 years now, but getting the beads imported is always a problem. We hope this new venture will produce more jobs and help us to reduce imports. We follow Fair Trade guide lines, but are not yet certified .
Send Email to:
Valarie Garber's Website
Help spread the word add the Ceramic Bead Artists widget to your blog