Ceramic Bead Artists - Unique High Quality Ceramic Porcelain and stoneware beads by various artists.
Start your Search for Ceramic, Stoneware, and Porcelain Jewelry Components Here.
You can quickly peruse a wide variety of artists, see a sample of their work and go directly to their website or ETSY shop so you can
BUY DIRECT FROM THE ARTIST
.
Help spread the word so more people can find all these great artists. Click the
Google+1
button to recommend a page on Google. There are
social media share
buttons on all of the tutorial pages as well as
Pinterest
buttons.
As a cooperative Ceramic Bead Artists is devoted to the promotion of ceramic beads as an art form. You will find some of the most innovative, unusual, and beautiful art beads right here. Make this your source for unique Jewelry components. Hand made beads are our passion. You always get a better deal from the artist plus you are helping them to continue the art. Click on the thumbnails in the slideshow and on the Artists page to find out more about each artist.
Many of our artists have Etsy shops so we have expanded the scope of Ceramic Bead Artists to include an Etsy team. Click on the ->
Etsy shops
link here or on the Artists page for a page with only members with Etsy shops.
Resources Section:
Find great places for inspiration, shopping for supplies and tools that have been shared by our artists. Find that hard to find supply or tips for that new technique that you have been wanting to do. Find Inspirational websites with great photos or exciting designs. What will our artists share with you? What are their favorite places?
Check Our Tutorials
You can see how our artists do what they do. Also how to incorporate these lovely jewelry making beads into your own jewelry projects for unique jewelry. Get some inspiration learn a new technique. Gain an understanding of the hard work that goes into these tiny works of art.
Ceramic
is a broad term that encompasses all forms of fired clay products. The most common type of ceramic bodies that are used are:
Earthenware is the type of ceramic body that is generally referred to as ceramic. It is a porus body that is usually glazed to achieve durability and beautiful colors and designs. It is a 'low fire' body generally fired to temperatures less than 2000 F.
Porcelain which is a strong vitreous body that is usually transluscent when fired. It is considered a 'high fire' body generally being fired to 2300 F (1200 C) or higher temperatures.
Stoneware is a strong body frequently used for ovenware. It is opaque and also a 'high fire' body. These comprise the most commonly used clay bodies.
Our Featured Artist Is
Michelle McCaleb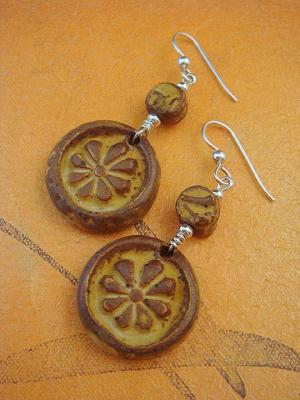 Specialties:
Unique Stoneware and Porcelain Ceramic Jewelry
Susan Yeoman and Michelle McCaleb are ceramic artists that work together to create truly unique handmade stoneware and porcelain jewelry. Each piece of GullyBug Jewelry is carefully designed and created out of stoneware or porcelain clay, glazed and fired to become wearable art. No two pieces are designed and glazed exactly the same so when you wear GullyBug Jewelry it is truly as unique as you are!
A note from Susan...
My interest in pottery began about 14 years ago when a potter of 30 years and her family moved from South Africa to our small town of Saltillo, Mississippi. After meeting Antoinette in church and discovering she was a potter but had no immediate place to work, my husband and I offered her the use of our cluttered barn as a makeshift studio. She took us up on our offer and began throwing her beautiful porcelain pots, making it look totally effortless. She would often fire these pieces in what she called "pit firings" out in our yard. Thus began my journey into the world of pottery!
Before three years had passed, Antoinette had moved into her own studio…and I was hooked. I kept fooling around with clay, reading book after book and enrolling in workshops. I fell in love with the way clay handles. While I enjoy making pieces of traditional pottery as a hobby, over the past 7 years GullyBug Pottery has evolved into much more than just bowls and plates. Since the first pair of earrings from stoneware clay, there's been no turning back. My best friend Betty Sandlin joined me in my pottery endeavor since the very beginning. She worked beside me through countless hours of trial and error that have made GullyBug Pottery what it is today.
Michelle McCaleb is also a great friend who has been working with me for the past 7 years. She began as GullyBug's Sales Representative and Website Designer. Michelle quickly gained a passion and skill for working with clay. She was a natural and jumped right into learning my techniques, creating new techniques, and creating unique designs for our jewelry . Michelle and I are now business partners and together we are GullyBug Jewelry Design. We love working together and are looking forward to designing and creating GullyBug Jewelry for many years to come!
Send Email to:
Michelle McCaleb's Website
Michelle McCaleb's ETSY Shop
Help spread the word add the Ceramic Bead Artists widget to your blog