Ceramic Bead Artists - Unique High Quality Ceramic Porcelain and stoneware beads by various artists.
Start your Search for Ceramic, Stoneware, and Porcelain Jewelry Components Here.
You can quickly peruse a wide variety of artists, see a sample of their work and go directly to their website or ETSY shop so you can
BUY DIRECT FROM THE ARTIST
.
Help spread the word so more people can find all these great artists. Click the
Google+1
button to recommend a page on Google. There are
social media share
buttons on all of the tutorial pages as well as
Pinterest
buttons.
As a cooperative Ceramic Bead Artists is devoted to the promotion of ceramic beads as an art form. You will find some of the most innovative, unusual, and beautiful art beads right here. Make this your source for unique Jewelry components. Hand made beads are our passion. You always get a better deal from the artist plus you are helping them to continue the art. Click on the thumbnails in the slideshow and on the Artists page to find out more about each artist.
Many of our artists have Etsy shops so we have expanded the scope of Ceramic Bead Artists to include an Etsy team. Click on the ->
Etsy shops
link here or on the Artists page for a page with only members with Etsy shops.
Resources Section:
Find great places for inspiration, shopping for supplies and tools that have been shared by our artists. Find that hard to find supply or tips for that new technique that you have been wanting to do. Find Inspirational websites with great photos or exciting designs. What will our artists share with you? What are their favorite places?
Check Our Tutorials
You can see how our artists do what they do. Also how to incorporate these lovely jewelry making beads into your own jewelry projects for unique jewelry. Get some inspiration learn a new technique. Gain an understanding of the hard work that goes into these tiny works of art.
Ceramic
is a broad term that encompasses all forms of fired clay products. The most common type of ceramic bodies that are used are:
Earthenware is the type of ceramic body that is generally referred to as ceramic. It is a porus body that is usually glazed to achieve durability and beautiful colors and designs. It is a 'low fire' body generally fired to temperatures less than 2000 F.
Porcelain which is a strong vitreous body that is usually transluscent when fired. It is considered a 'high fire' body generally being fired to 2300 F (1200 C) or higher temperatures.
Stoneware is a strong body frequently used for ovenware. It is opaque and also a 'high fire' body. These comprise the most commonly used clay bodies.
Our Featured Artist Is
Diana Brower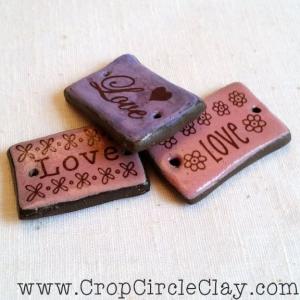 Specialties:
stoneware pendant and bracelet focal beads, connectors, charms, earrings, buttons
Hello! My name is Diana Brower and I love to make rustic, earthy ceramic beads and charms which I turn into pendants and earrings. My favorite material is a dark brown stoneware clay and I use iron oxide transfers to imbue crop circles, peace symbols and other sacred symbols onto my pieces. I form each piece with my hands and fire them three times in my electric kiln. Once for the bisque, the second to high fire cone 5 for the glaze and the third firing is another low fire to burn in the iron oxide designs at cone 04. Because of the three kiln firings they endure, they are very sturdy!
Working with clay grounds me to Mother Earth; I breathe in its sweet scent as I'm wedging and delight in the comfort it brings. This calms my mind and brings peace like an artful meditation. Also, I give my clay Reiki energy before I begin to work with it to connect myself to the clay. Those sensitive to energy claim to feel this energy when they wear my pieces or hold my beads in their hands.
Currently looking for boutiques & gift shops, spiritual and healing centers, funky cafes and unique online shops who might be interested in carrying my jewelry. Would also sell my beads wholesale to artists who would like to create with them. Thank you for your time.
Awards, Recognition, Articles:
Finalist in the Martha Stewart AMERICAN MADE Competition 2014
Diana Brower's Business Facebook Page
Send Email to:
Diana Brower's Website
Diana Brower's ETSY Shop
Help spread the word add the Ceramic Bead Artists widget to your blog