Ceramic Bead Artists Tutorials by MaryAnn Carroll -- Houseold Items...Cool Looking Beads
Houseold Items...Cool Looking Beads
A Tutorial by
MaryAnn Carroll
Share this Item with your Social Network friends.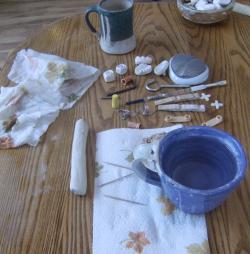 This pic includes a variety of items that I have used right from things laying around the house. There are also a couple of molds that I have made for stamping. You will also need clay (I use mid-fire porcelain), water, toothpicks and paper towels.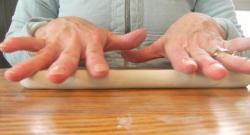 Begin rolling the clay into a snake like form. Don't push too hard or you will start to flatten it. Start from the center out keeping a steady motion to the end. Once at the end, start over in the middle again until you you have a size that you think will make the bead size you want.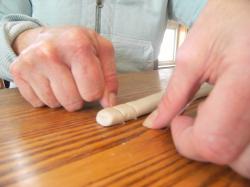 Use fishing line to cut even sizes from the clay. I make rustic looking beads, so I like them to be "about" the same size, but I don't get too stressed about this.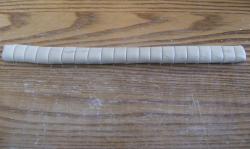 It will look something like this when you are all done.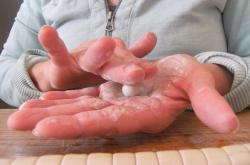 Take each piece and form into balls. Once again, this does not need to be perfect!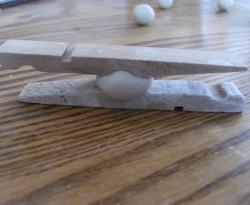 This is a clothespin that I took apart. It offers two different "household molds" for changing your basic round bead into a disk with a little style.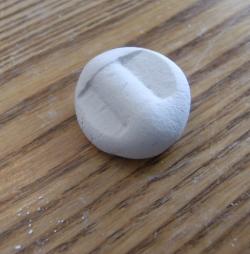 Here is how it will look prior to me smoothing it with a sponge.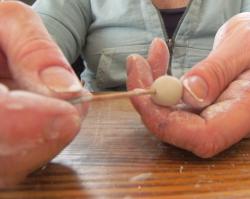 For the puncturing demonstration I am using a basic round ball of clay. The process is the same with any shape. I typically wait until the clay starts to feel cold before I puncture it. Feeling cold is a sign that it is drying into shape. It is less likely to lose it's shape if you wait, but don't wait too long because it will most likely crack. Sometimes you may need to spin the toothpick to help it glide easier. Make sure to look at all sides of the bead while doing this. That helps you to stay centered.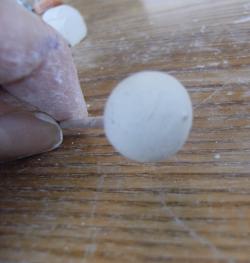 Try not to let the toothpick go all the way through. You should puncture the bead until it just starts to poke through the other side.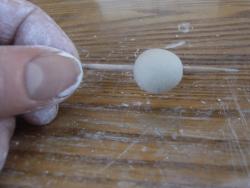 Now go through the bead in the other direction. You already know where the hole is since you've done that by slightly touching the other target with your toothpick.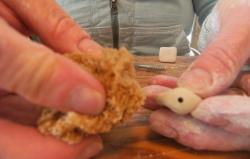 In this picture I have shown the original "clothespin" bead that I made. Now it needs to be sponged off. Some people prefer a rougher edge on their beads. This is a personal preference. If you don't, however, smooth ary rough areas by the punctured holed because there will be a greater risk of that area chipping when you use them in jewelry making.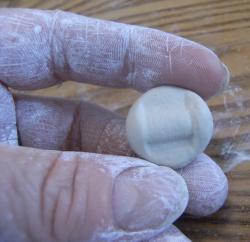 Here is the finished bead. This is referred to as "greenware." Once it dries completely (about 24 hours from small beads) I will be able to fire it in the kiln (bisqueware) to about 1850 degrees prior to glazing. Stay tuned for another tutorial on how I glaze my beads....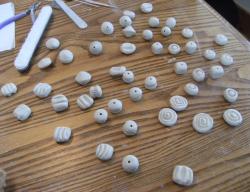 These are various beads that I made at this same time from the items that I showed on page one.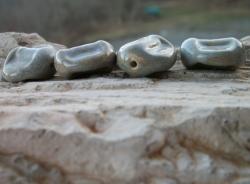 Here is a side view of these beads in their finished state. This is an Amaco commercial glaze which has a blue effect with a gray background.